EFF launches Andries Tatane cleaning campaign in Sebokeng.
On Saturday, the Economic Freedom Fighters (EFF) officially began the Andries Tatane Clean-up Campaign in Sebokeng zone 13 in the Vaal.
The EFF has named its cleaning campaign in honour of the late Andries Tatane, leaving a lasting impression.
Tatane was shot and killed by police officers at a service delivery demonstration for water in Ficksburg, Free State, in 2011.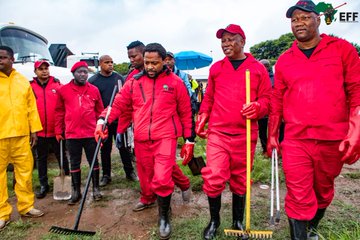 EFF leader Julius Malema, speaking at the launch of the cleaning campaign, said the ultimate aim of the campaign is to show that in 2024 that they will be going cleaning the government by making sure the ANC government is out of power.
"We want to teach the government of the ANC that it is possible to clean because they don't know how to clean after themselves…"

"The government doesn't care about its people. As community members, we should care and make cleaning a fashionable thing," he said.

"You are on your own because the municipality is not collecting rubbish and there are many illegal dumping sites in Emfuleni townships,"

"By cleaning our townships it shows that in 2024 we are going to clean the government by making sure the ANC government is out in power." said Malema.